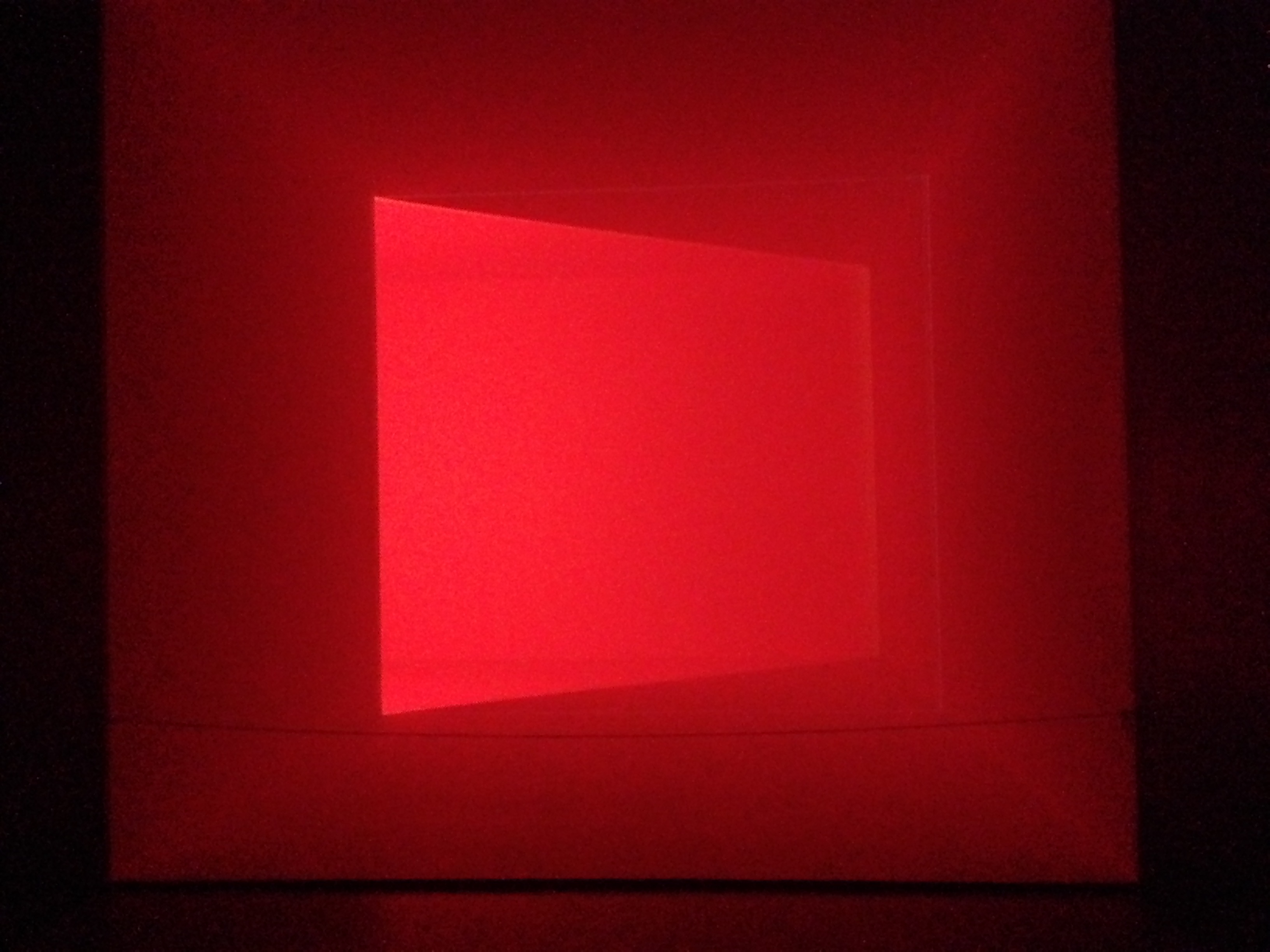 Last spring I visited Denmark. One day in Aarhus, I spent hours in the ARoS art museum, and in its basement I found and photographed a very strange red thing. I have shown this photograph to several people to whom I have subjected my Denmark vacation snaps, and every time I find myself utterly unable to properly describe or even explain this red thing. Let me see if I can do a better job in writing.
Further background: On this day I found myself alone, Aarhus mine to explore, as I had elected not to join my travel-companions on a trip to nearby Legoland. Plodding, then, without particular direction up a hill through the city's gray downtown, I startled to see the strange rainbow donut on the museum's roof. The building has prominent "ARoS" signage all over, but that meant nothing to me and I couldn't read the accompanying Danish. Feeling more than usual like a true foreigner, I could not determine the nature or purpose of the building until I worked up enough courage to walk into its lobby. At first I thought maybe it was an office building or an industrial plant and gave it a pass, then turned back, aching with curiosity. One of the most rewardingly videogame-like experiences of my life.
To my delight, I discovered the exhibits within ARoS to focus on installations, unique and location-dependent, always my single favorite sort of artwork to visit.* The colorful rooftop toroid, Olafur Eliasson's Your Rainbow Panorama, is the most visible and permanent of the museum's installed artwork. Inside, I found a number of strange and beautiful works that you'll have to ask me directly to hear more about, because now I want to take you into the basement.
ARoS had divided its lowest level into nine compartments with sizes ranging down from small theaters to broom closets. Each dimly lit room or space held a single work. A surreal film played in a loop across three side-by-side projectors; a tiny, empty dance club, littered with trash, invited pawing through fictional album sleeves in its DJ booth; and the red thing lurked in a recessed alcove.
I didn't note the name of this sculpture, or its artist, and I can't easily find it online. (If you happen to know, please tell me. But see the update below.) It wasn't my favorite work during my visit to ARoS; just the one I find most consistently challenging to put into words.
The art took the form of an oblong cutout in a wall that slanted physically away from the viewer, the right side more distant than the left. (A rope barrier enforced this relationship with the work.) The cutout held a light, the only light in the alcove, placed so that one could not directly see the source.
One could see how the light reflected through and around the work, though, and this defined it. Somehow, through some expertly uncanny combination and positioning of materials, the space inside the cutout seemed misty. This extended outwards, bulging from the cutout to an uncertain distance. But the thick-seeming air held no motion, no moisture to feel or smell. I cannot recall whether or not I gave into the temptation to wave my hand through the empty space.
Such a strange thing to encounter, in the dim basement of a modern art museum while by myself in a non-Anglophonic country for the first time. I took a couple of pictures of it, and they totally fail to convey any of this. And that is the best I can do at describing the red thing I saw under Aarhus.
Update: Robert Serocki identified the artist as James Turrell, and the work as part of his "Wedgework" sculpture series. Thank you!
---
* Barbetween represents my attempt to replicate the experience of visiting a physical art installation in a purely online space, somewhat after the fashion of Paul Matisse's Kendall Band — a work I feel fortunate to have lived over and even occasionally interacted with during what may have been the last few years of its functional life.